Irvine Bankruptcy and Divorce Attorney
Divorce and bankruptcy are two of the most stressful events that can happen to someone. When they occur together, it can be extremely difficult to see the path forward. Not only do you have to navigate emotional and financial issues, but you must also endure two separate legal negotiations. This often causes confusion, frustration, and defeatism.
Fortunately, with the help of an Orange County divorce and bankruptcy attorney, you can navigate your bankruptcy and divorce case easily. Through careful negotiation, we can minimize the financial damage of your divorce. We can ensure that you are not responsible for debt that is not yours to pay.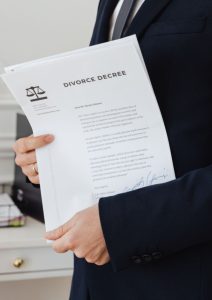 Quinn & Dworakowski, LLP: Your Irvine Divorce and Bankruptcy Lawyers
When it comes to family law, our attorneys lead the Orange County industry. We have a vast and thorough understanding of family law issues and can help you with any situation that you may encounter. As such, divorce is the most common legal case that we face. We have complete confidence that we can represent you properly throughout your divorce process.
Going through a divorce and a bankruptcy is a unique situation, but these legal cases do arise. Because we are so experienced in family law, we have seen many of these unique cases during our time in business. This means that we offer reliable, expert advice for your bankruptcy and divorce. We give you the best chance of a favorable divorce agreement.
Bankruptcy and Divorce: What You Should Know
In some situations, couples file for bankruptcy before they file for divorce. In other situations, the divorce begins first, with the bankruptcy process following. In any scenario, it is usually best to traverse one at a time. This helps to streamline both processes. If spousal support or child support are aspects of your divorce process, you will likely find that it slows or halts your bankruptcy proceedings.
If you file for bankruptcy after your divorce, certain divorce costs may be discharged. However, you are certain to enter your new life with low credit and financial problems if you file for bankruptcy after divorce. If you do so before divorce, you may be able to minimize the damage.
It may not be possible to separate your bankruptcy and divorce processes, as these two events often happen together or affect one another. In these situations, your best option is to hire an Orange County divorce attorney who has experience in bankruptcy law. Our divorce lawyers at Quinn & Dworakowski, LLP, fit this requirement.
Why Do I Need an Orange County Bankruptcy and Divorce Lawyer?
As mentioned, both bankruptcy and divorce are complicated situations that require expert legal attention. During divorce, it is common for an unrepresented spouse to get less of a settlement than a spouse with an attorney. You may lose key assets and financial support if you fail to hire a lawyer.
However, divorce also redistributes debt between the two spouses, unless a prenuptial agreement is involved. This means that a bankruptcy will have a significant effect on your financial status going forward. You may have a low credit score and even have assets taken away from you to settle your debt. This can leave you with nothing to begin your new life.
Having an attorney allows you to negotiate the best terms for yourself and your future. There may be ways to minimize your portion of the debt or responsibility for the bankruptcy.
Divorce & Bankruptcy Attorneys FAQs
Q: How Much Does a Bankruptcy Lawyer Cost in California?
A: The average cost of a bankruptcy lawyer in California is between $1,200 and $1,850. However, many attorneys charge different amounts for their services and may even have different types of costs. For example, some attorneys charge an hourly rate rather than a flat rate. It is important to be aware of the policies of any potential attorneys so that you can be financially prepared for your case. Search for an attorney you can afford.
Q: What Do Lawyers Do in Bankruptcy?
A: When you hire a bankruptcy attorney, they can give you advice about how to proceed through your complicated financial situation. Your attorney is ethically obligated to act in your best interest, meaning that you can trust their counsel and advice. They will also help you fill out the necessary forms and submit them properly, which can be a challenge on your own. Finally, your attorney will represent you in court and make sure your voice is heard.
Q: How Much Does a Lawyer Charge for Chapter 7 in California?
A: An attorney charges anywhere between $900 and $2000 for Chapter 7, on average. However, many attorneys charge differently, so it is important for you to discuss finances with potential attorneys before you hire them. Chapter 7 is an appropriate bankruptcy filing for many people, but it may not be right for you. Be sure you understand your options before deciding to file Chapter 7. An attorney can help you explore your options and make a decision.
Q: Is Filing Chapter 7 Worth It?
A: Filing Chapter 7 is worth it for some people and not for others. The choice entirely depends on your personal situation, finances, and goals. Although Chapter 7 provides significant debt relief, assets like your home, car, and other large items will be sold to settle some of your debt. Because of this, there is no singular answer as to whether Chapter 7 is worth it or not. Explore your options with an attorney before deciding.
Contact Quinn & Dworakowski, LLP
Both bankruptcy and divorce are tough decisions. No one takes these situations lightly, and they are a last resort for those who decide to go through with them. If you are going through divorce, bankruptcy, or both, you need an attorney who can properly represent you. You also need an attorney who is sensitive to your needs and your feelings during this vulnerable time. Our team at Quinn & Dworakowski, LLP, provides excellent and compassionate legal counsel for a variety of family law cases.
For more information about our services or what we can do for you, please contact Quinn & Dworakowski, LLP, online today.