FAMILY LAW ATTORNEY IN ORANGE COUNTY, CA
Family law is a unique area of civil law that pertains to the legal issues that arise among members of the same family or household. Family law cases have the potential to influence the lives of those involved in several ways for years to come. If you are facing any legal matter in the Orange County family court system, it's vital to have an Orange County family law firm on your side with the resources and experience necessary to help you approach the situation with confidence.
The outcome of your family court case can have lasting effects on many areas of your life, from your personal finances and your career to your retirement and your relationships with your children. Unfortunately, the emotional aspects of many family court cases can drive some people to make costly errors or overlook the need for reliable and experienced legal representation. The right attorney can help you feel more confident about your legal options and assist you in understanding the more complex aspects of your case in greater detail.
The attorneys of Quinn & Dworakowski, LLP, have represented many Orange County clients in challenging family court cases entailing multiple legal issues. We understand the emotional strains that family law cases often cause for those involved and strive to help our clients have peace of mind and reassurance as their cases unfold.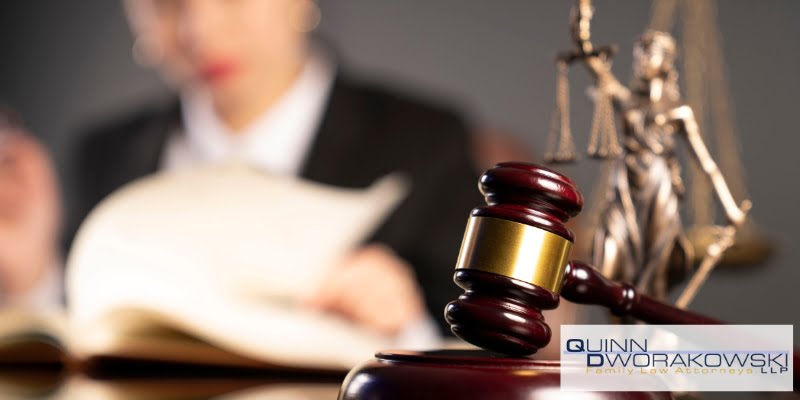 Why Do I Need an Orange County Family Law Firm?
Whenever you face a legal case of any kind, it's essential to secure legal counsel from an attorney who has solid experience handling the type of case before you. When confronting a family law matter, it's essential to have legal counsel from an experienced family law attorney. Quinn & Dworakowski, LLP, can provide the comprehensive legal representation you need to approach your case confidently, navigate your proceedings efficiently, and secure the best possible outcome.
While no attorney can ever promise a specific outcome in any given case, working with an experienced Orange County family law firm significantly increases your chances of securing a favorable result for your case. Our team takes a client-focused approach to every case we accept. We'll take time to get to know you and learn as much as we can about your current situation and your goals for the future and then apply our findings to your legal representation. We understand the stress, anxiety, and uncertainty that any family law case can generate, and it's our mission to provide our clients with peace of mind—the reassurance that only experienced and compassionate family law representation can offer.
WHAT SETS US APART?
Recognized by US News & World Report as one of Southern California's "Best" Divorce and Family Law Firms, Quinn and Dworakowski has built a longstanding reputation for commitment to excellence and client satisfaction. Complete dedication to the client is a core value at Quinn and Dworakowski, and a client's satisfaction is the best measure of our success.
Divorce cases often involve numerous inter-related issues, and clients benefit from the firm's team approach. Our divorce and family law lawyers collaborate and analyze the case from multiple perspectives, with the goal of bringing the best outcome for the client. With more than 100 years of combined litigation experience, the attorneys at Quinn and Dworakowski are committed to handling each case with skill, compassion for the client, and attention to detail.
OUR DIFFERENCE IS APPARENT FROM THE FIRST CONSULTATION
Our unique approach to your divorce and family law case is apparent from your initial meeting. All new consultations meet with an experienced family law attorney, who analyzes your individual situation and develops an effective strategy based on your desired outcome. Since our goal is to obtain optimal results, we take the time needed to fully understand your objectives, starting with the initial meeting. Retaining our divorce and family law firm provides a sense of confidence and security in an otherwise difficult time in your life.
OUTSTANDING RESULTS
The divorce and family law attorneys at Quinn and Dworakowski have earned an outstanding reputation in the legal community. The firm's award-winning attorneys are amongst the finest trial attorneys in the state. And while trial experience is an important asset, especially in high conflict matters, not every case has to go that route. If settlement makes sense for you, that is the avenue we'll pursue. Either way, we will use our formidable resources and reputation to achieve optimal results on your divorce and family law matter.
AREAS OF EXPERTISE
Characterization of High Net worth Assets
Business Valuation
Divorce in Orange County Family Court
Dissolution of marriage is one of the most common reasons people find themselves embroiled in the Orange County family court. When you and your spouse decide to end your marriage contract, the process will likely be more detailed than you initially expected. You and your spouse will have multiple issues to cover, including dividing your property under California's community property law and determining custody of your children. Divorce is an emotionally draining experience in several ways, and it's essential to have legal representation you can trust in this type of case.
Your Orange County family law firm can provide ongoing support throughout your dissolution proceedings. Quinn & Dworakowski, LLP, take a client-focused approach to every divorce case we accept, learning as much as we can about our clients and helping them make informed decisions about their cases. We can help our clients explore alternative dispute resolution to potentially save time and money on their divorces, and we have extensive experience in divorce litigation.
Whatever your unique situation entails, we will develop a legal strategy that addresses your needs and preferences. While we cannot promise any specific outcome to your divorce, we can help you approach the entire case with greater confidence and a clearer understanding of the legal mechanisms in play.
Property Division, Financial Disclosure, and Valuation of Assets
Financial disputes are standard components of modern divorces in Orange County, CA. In addition, a divorcing couple must divide their marital property under California's community property law, splitting all marital property 50/50. However, this is not as straightforward as it may seem at first, and the property division process can be highly contentious and complex in some divorce cases.
Our team not only has experience with property division in divorce but also in handling high net worth divorce cases that involve very complex assets, investments, and high-value real property. We can assist you with every aspect of the property division process for your divorce, from identifying and characterizing all of your property to assessing the value of your business and other high net worth assets.
Financial disclosure is a critical component of any divorce case. Both spouses must submit complete and accurate financial records to the court for the purposes of property division, child support determination, and spousal maintenance orders. Therefore, it's essential to be honest and transparent in your financial disclosure statement. If a divorcing spouse attempts to hide assets or otherwise unfairly interferes with the financial disclosure process in their divorce, they face severe consequences, including contempt of court or even criminal prosecution.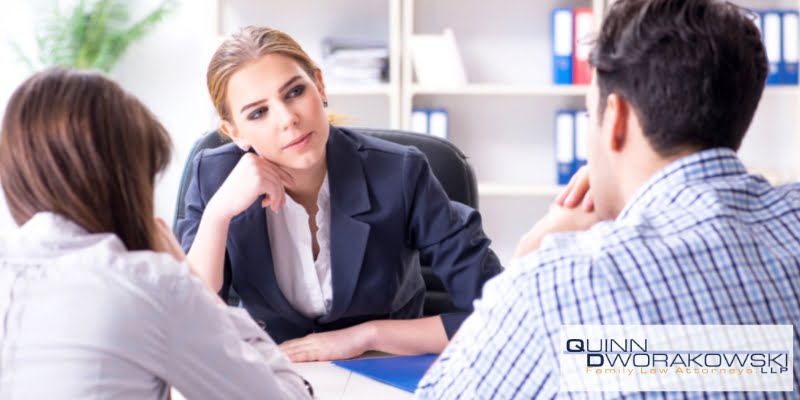 Child Custody Determinations in Orange County Family Court
One of the hardest experiences of a parent's life is a custody dispute. The thought of losing time with your children may be unconscionable to you, but if you are divorcing your child's other parent or separating from them as an unmarried parent, you must resolve custody rights through the Orange County family court system. As long as your co-parent does not pose any danger to your child and qualifies as a fit parent, they have as much of a right to be a parent as you do. This is difficult for some parents to accept, and other parents must fight vigorously to prevent their children from being harmed or neglected by unfit co-parents.
It can be very disempowering for any parent to realize that the final decisions regarding custody of their children are entirely out of their hands. The Orange County family court system has a legal obligation to handle custody disputes, and the judge handling your case is required to rule in favor of the best interests of your child, not your personal preferences. However, you can make a stronger case for custody with the help of an experienced Orange County family law firm. Your legal team can assist you in gathering physical evidence, witness statements, and character references you may need to make your case for parental rights.
Family Court Order Modifications
Our team not only assists Orange County clients with difficult child custody disputes but also with modification proceedings related to standing family court orders. When life causes unexpected problems that interfere with a standing custody order, you can petition the Orange County family court for reasonable changes that reflect these events. If you need to ask the court for a change to your custody order, we can assist you in drafting a modification petition that clearly outlines your requested change and the justification behind it.
It's possible to request a change to your standing family court order regarding child support, child custody, or spousal maintenance. Whether you are paying or receiving any type of support from your ex-spouse, you have the right to petition for reasonable changes to the family court order in light of recent events beyond your control. Some of the most commonly cited reasons for people to seek modifications to their family court orders include:
Job loss or other substantial changes in income.
Medical emergencies, such as critical illnesses and catastrophic injuries.
Discovery of information that should have been addressed in the original case.
Recent criminal behavior of any party beholden to the order in question.
A terminating action that would cancel a spousal support or child support obligation.
If you are unsure whether recent events qualify as valid grounds to request a change to your standing family court order, we can help. Our team has assisted many clients in securing modifications to their family court orders, and we can apply our experience to your situation.
Domestic Violence and Restraining Orders
It's unfortunate that many people living in Orange County experience various forms of domestic violence each year. Unfortunately, domestic violence can apply to any close relations, be they members of the same family or unrelated people who share a household. When domestic violence occurs, victims need legal counsel they can trust to secure the protective orders they need to prevent further victimization and guide them through related family court proceedings.
Quinn & Dworakowski, LLP, has helped many past clients navigate the Orange County family court system after experiencing all types of domestic violence. We have also helped many clients who were wrongfully accused of domestic violence. Unfortunately, some people will attempt to use domestic violence accusations to gain an advantage in divorce and custody disputes. They may also do so simply out of spite to damage the target's reputation and interfere with their lives.
If you have experienced domestic violence or have been wrongfully accused of domestic violence, we can help. Our firm knows how to help victims secure the restraining orders they need to protect themselves and their loved ones. We also know how to help a wrongfully accused individual avoid implementing an unjust restraining order.
Civil Harassment Cases
Civil harassment generally applies to situations between neighbors, co-workers, and other acquaintances. In most cases, these incidents would qualify as domestic violence if they were to occur between family or household members. However, if you have experienced civil harassment from a neighbor, co-worker, or former employee, such as threats of violence, physical assault, deliberate disruptions with no legitimate purpose, or stalking, it's possible to secure a protective order from the Orange County family court and hold the at-fault party accountable.
Similar to domestic violence cases, Quinn & Dworakowski, LLP, has experience on both sides of civil harassment cases in Orange County. We have helped victims navigate their court proceedings and secure the protective orders they need to feel safe again. We have also assisted wrongfully accused individuals so they can avoid having unfair and unjust protective orders implemented against them that interfere with their daily lives and diminish their standings within their communities. Whatever your civil harassment case may entail, Quinn & Dworakowski, LLP, is ready to be your Orange County family law firm and guide you through your proceedings as efficiently as possible.
What to Expect From Your Orange County Family Lawyer
The Orange County family court system can be intimidating for the average person with no formal legal experience or training. Therefore, when you choose Quinn & Dworakowski, LLP, as your Orange County family law firm, we will carefully review the details of your case and get to know you as much as possible. We believe in client-focused legal representation, and the inherent nature of family law means there are no one-size-fits-all legal strategies in complex family court cases.
Our team can assist you in determining the best approach to your current case. For example, if you are ending your marriage, we can help you and your spouse take advantage of the benefits that alternative dispute resolution might offer, potentially saving you a significant amount of money and stress in your divorce. If you are bracing for a child custody determination, we'll assist you in gathering whatever materials you need to make a compelling case for custody. If you have experienced domestic violence or have been falsely accused of committing domestic violence, we can help you determine the best legal remedies available to you in your situation.
Ultimately, any family law case has the potential to be a life-changing experience. You need legal counsel you can trust in this situation, and the team at Quinn & Dworakowski, LLP, is ready to represent you in your case. If you are struggling to determine the best approach to any impending family court case in Orange County, CA, we can help. Contact Quinn & Dworakowski, LLP, today to schedule your consultation with us.