FOR FAMILY LAW 2021 IN THE GEOGRAPHICAL REGION OF ORANGE COUNTY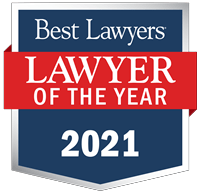 In 2021, Mr. Dworakowski earned the prestigious title of "Lawyer of the Year" for Family Law in Orange County. The "Lawyer of the Year" is a special title awarded through Best Lawyers and to those that the organization believes to be the "best of the best." Each geographic region will have one "Lawyer of the Year" per practice area, making the final selections extremely competitive and limited.
Best Lawyers is an organization that rates and recognizes legal professionals by using a "purely peer review" process. The group is well known for being meticulous with its selection process that eliminates insider nominations and potential biases, so only the most deserving lawyers are left with a recognition each year. Attorney Dworakowski has previously been recognized by "Best Lawyers" for his excellent legal representation.
A founding partner of Quinn & Dworakowski LLP, one of Orange County's premier divorce and family law firms, Attorney Dworakowski believes in compassionate representation with complete dedication to the firm's clients. "Our clients depend on us to get them through what is often the most difficult time in their lives," says Dworakowski. "We take this job seriously, and we are up to the task."